This website is largely dedicated to bulking and cutting pills and supplements, but I know that many people like to use protein shakes to achieve similar results.
So in this article I thought I would discuss one problem that I have encountered many times when using one of these protein powders, and how you can successfully overcome this problem yourself.
I'm talking here about foamy, frothy protein shakes. You've probably encountered this yourself. You pour some water into your shaker, add a few scoops of protein powder and give it a vigorous shake, only to discover that you are left with a shaker full of froth with a little bit of liquid at the bottom.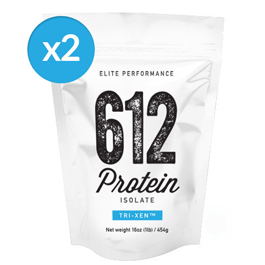 It doesn't really matter which brand of protein powder you use either because this can still occur even if you use a high quality protein, such as Bauer Nutrition's 612 Protein, for example, which is low in fat, lactose and carbs and is free of any chemical ingredients.
It's quite a trivial issue, but it can present a real problem because this foam is full of air, and will almost certainly cause a lot of bloating and gas if you try to drink it.
Luckily the solutions are fairly simple. Here's what I recommend you do in order to prevent any frothiness:
Don't Use A Shaker Or A Blender
If you're using a protein shake that's prone to frothiness, the worst thing you can do is to shake it up with a shaker or a blender. It's much better to place the powder into a shaker full of water and mix it up with a fork or a spoon until it completely dissolves. This is what I always do and you should find that it never creates any foam if you do it slowly.
Prepare Your Shake Before Your Workout
Another option is to prepare your shake before you begin your workout so that you allow plenty of time for the foam to disappear. This is a really good idea if you are using a powder that doesn't mix very well and requires a lot of shaking in order to remove all the lumps.
Dissolve The Powder In A Small Amount Of Water
One more method that seems to work fairly well is to put a tiny amount of water into a shaker and mix it up with the powder until it dissolves. This will create a lot less froth and you can then just top it up with the required amount of water once it has settled.
Use Water Instead Of Milk
The final recommendation is to use water instead of milk. Milk-based shakes are obviously a lot harder to mix and will require a lot more shaking, therefore creating a lot more foam. So you may find that this solves the problem, but if not, you might have to use one of the methods above.
Take Protein Tablets Instead Of Shakes
If all else fails, there are a few really effective muscle-building supplements that contain protein as one of their key ingredients. For example, D-BAL, Crazy Bulk's natural alternative to Dianabol, contains whey protein, and Anadrole, another of their most popular products, actually contains whey protein and soy protein, along with a number of other beneficial ingredients. So there are other ways of consuming protein if you are looking to build muscle.