Capsiplex Sport Is A Powerful Fat Burner That Can Increase Energy And Strength, And Help You Burn Up To 278 Extra Calories When You Work Out…
I don't normally review diet pills on this site because I primarily focus on products that can help you bulk up and build muscle, but I thought I would introduce you to Capsiplex Sport because this is a very powerful fat-burner that is suitable for both men and women, and is more of a pre-workout supplement than a weight loss pill.
This supplement is ideal if you have recently been on a bulking cycle and now find yourself with a few extra pounds of unwanted body fat, for instance, or if you have simply become a little overweight for whatever reason.
That's because it utilises the power of capsicum extract (chilli pepper) to help you burn fat through thermogenesis, and along with the other ingredients, it can actually help you burn a lot more calories when exercising.
Here are some of the main features and benefits of this exciting new pre-workout supplement:
helps burn up to 278 extra calories per day
promotes fat-burning through thermogenesis
increases strength and endurance
boosts energy levels
boosts the metabolism
improves exercise performance
may help suppress appetite
made from pure, tested ingredients
no adverse side effects
suitable for both men and women
Click here to learn more about Capsiplex Sport
Capsiplex Sport Ingredients And How It Works
Capsiplex Sport is essentially a thermogenic workout supplement that boosts your metabolism, promotes fat-burning and gives you more energy (and strength) to work out longer and harder in the gym.
One of the main benefits of this particular fat burner is that it is made from pure, natural ingredients with no fillers or additives.
The key ingredient is of course capsicum extract, which you may know as chilli pepper, but it also contains several other ingredients that work together to help provide some of the benefits listed above.
The full list of ingredients is as follows:
capsicum extract – boosts the metabolism and helps burn more calories when exercising
l-arginine – natural amino acid that replenishes nitric acid and boosts blood flow to the muscles
caffeine – stimulant that boosts energy levels
piperine – the hot part of black pepper that boosts the metabolism and helps with absorption
vitamin B3 – increases energy levels, fights fatigue and helps metabolise fats, carbs and proteins
Capsiplex Clinical Studies – Does It Actually Work?
The key question that many people will want to know is, does it actually work?
Well this is one of the few workout supplements that is backed by clinical studies because if you visit this page, you will see that in a study carried out by the University of Oklahoma, Capsiplex Sport was found to burn 3 times more calories before and during exercise, and 12 times more calories up to one hour after exercise.
Researchers subsequently found that people burned an average of 278 extra calories when taking this supplement before their workout.
So this is clearly a very effective pre-workout supplement that does actually deliver results.
Customer Testimonials
In addition to being backed up by clinical studies, Capsiplex Sport also has a number of positive customer reviews that demonstrate its overall effectiveness.
You can read many of these reviews by visiting the testimonials page of the Capsiplex Sport website, but here are two video testimonials that would suggest that it works well for both men and women.
Side Effects
Although this product contains ingredients that are derived from hot peppers, the capsules themselves are coated to ensure that these ingredients are completely broken down and absorbed in the intestines instead of in the stomach.
Therefore although it may cause hot flushes as a result of a raised body temperature, there is none of the stomach burning or unpleasantness that you often associate with hot peppers.
Indeed the only ingredient that may cause any side effects is the caffeine, although unless you are particularly sensitive to this ingredient, it is unlikely to cause any problems because there is only a tiny amount of caffeine included in this supplement.
Directions
This supplement is really easy to take because you just need to take one of these capsules 30 minutes before your workout in order for it to take effect.
Where To Buy Capsiplex Sport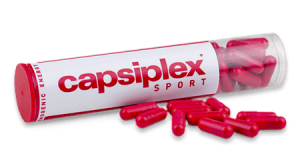 If you would like to buy this Capsiplex Sport pre-workout supplement, it is only available to buy from the official Capsiplex Sport website.
A 1-month supply is available for £29.99 ($47.15), but you can currently save an additional 20% by entering the coupon code SALE20 at the checkout, and you can benefit from free worldwide delivery if you live in the UK, the US or Europe.