Tribulus Pro Is The Strongest Tribulus Terrestris Extract Currently Available, And Will Help Build Muscle And Promote Growth, And May Even Boost Your Libido…
As you may have already discovered, there are a few different products that have the words Tribulus Pro in their title.
However in this article I want to review Tribulus Pro from Myprotein.com because this is said to be the strongest tribulus terrestris extract supplement currently available with 95% saponins, and 300mg of tribulus per capsule.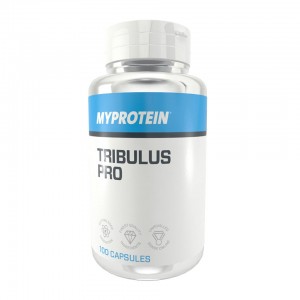 Here are some of the key features and benefits of this product:
helps promote muscle growth
increases energy levels
may help boost libido
contains 95% saponins
strongest tribulus terrestris extract available
excellent value for money
Click here to learn more about Tribulus Pro
What Is Tribulus Pro And How Does It Work?
The main reason why you should consider buying Myprotein's Tribulus Pro supplement is because it is a maximum-strength supplement that will help increase your energy levels and build muscle mass.
The key reason why this product works so well is because the saponins in tribulus terrestris extract, which is the plant that it is derived from, are said to increase the body's luteinising hormone and subsequently boost testosterone levels, which obviously helps with muscle growth.
Indeed it became really popular with Bulgarian weightlifters who found that they could lift heavier and heavier weights after taking this plant extract, and used this as a secret weapon. So it clearly works extremely well if you are looking to increase muscle gains.
As an added bonus, it has also been found to have a positive effect on the libido as well, which is another reason why it has become so popular with a lot of men in particular.
Ingredients Of Tribulus Pro
Unlike a lot of muscle-building supplements, there isn't a long list of ingredients that you've probably never heard of before.
The only ingredients here are tribulus terrestris (300mg), magnesium stearate and gelatin.
Side Effects
Tribulus Pro is not linked to any adverse side effects. However as with many other supplements, some people may experience some mild stomach discomfort when taking this supplement.
In addition, the makers of this product also point out on the product page that you should stop taking this product immediately and talk to your doctor if you notice any breathing problems or tightness in your chest or throat, or start developing skin problems because these may be signs of an allergic reaction.
Directions
Each supplement provides you with 300mg of tribulus terrestris, and you can take up to 3 capsules per day before meals. It should form part of a healthy diet, and if you are looking to build muscle, it should also be used alongside some kind of strength training program for optimum results.
Customer Reviews
The customer feedback has been excellent so far because many people have awarded Tribulus Pro the maximum of 5 stars out of 5, and it has scored highly on mixability, taste and effectiveness.
According to many of these customer reviews, Tribulus Pro really does seem to help a great deal with muscle enhancement because many people have reported muscle gains after using this product.
Furthermore it also seems to help boost energy levels because quite a few people have noticed a vast improvement in this area, and now have much more drive and determination to work out.
Finally there have been several men who have seen a marked improvement in their sex drive, which suggests that it really can help to boost the libido.
Where To Buy Tribulus Pro
If you would like to buy Tribulus Pro, it is available from this page of the UK and European Myprotein website, where you will also find more than 100 customer reviews.
It is very reasonably priced because it is now available for just £8.49 (or €11.49 if you live in Europe) for a 1-month supply of 90 capsules, or £18.49 (€22.19) for a 3-month supply of 270 capsules, which is an even better offer.