A lot of the 30-day challenges that you come across online are designed primarily for women who want to tone up and lose a little bit of weight. So for this article I thought it would be a good idea to find a gruelling 30-day challenge that is a lot more intense, and therefore a lot more suitable for men.
Furthermore I wanted to find one that is based around push ups because this particular exercise is ideal for increasing upper body strength and working both the arms and chest muscles.
I managed to find lots of different push up challenges that seemed to be very easy, with as little as 8 reps on day 1, and as little as 50 – 60 reps on day 30.
However I did manage to find one 30-day challenge that is ideal for men who want to really push themselves because this one starts off with 40 push ups on day 1 and concludes with 100 push ups on day 30.
Plus there are plenty of rest days throughout this 30-day challenge, which ensures that your body will have plenty of opportunities to rest and recuperate and won't start to ache too much.
This intense 30-day challenge is illustrated below, and I think you will find it to be very tough, but also very rewarding in terms of overall results.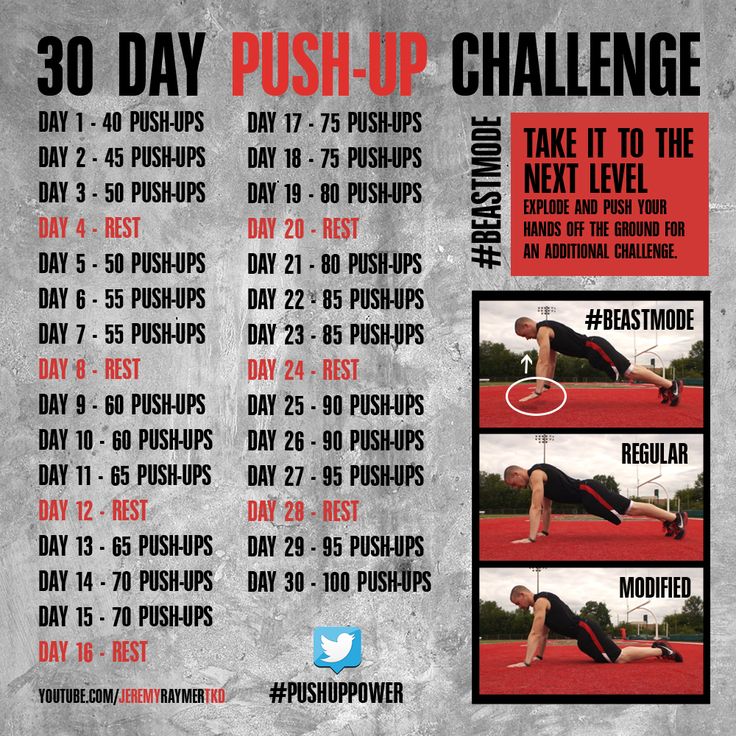 Once you have completed this challenge, you should have a lot more strength in your upper body, and will then be in a position to continue doing lots more strength training in the gym to hone your physique and build muscle mass even more.
You don't necessarily need to take any supplements or protein shakes whilst completing this challenge because you should still see noticeable results without them. However because you are working your muscles on a regular basis, you may well achieve even better results with a high protein diet and some kind of muscle-building supplement.