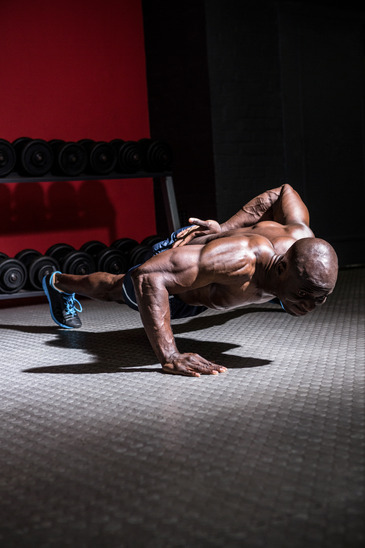 The humble push up is actually one of the best bodyweight exercises you can do because it is very effective at strengthening and toning up your chest, shoulders and arm muscles (particularly your triceps), whilst also building a more solid core.
Push ups can also help you to burn fat to some degree, but this exercise is primarily a strength building exercise that both men and women can benefit from.
The major benefit of this exercise is that you can jump down to the floor and push out several reps anywhere and anytime you want without having to use any equipment.
The drawback of this exercise is that you are limited to your own bodyweight. So in other words, once you have increased your strength enough to lift your own bodyweight fairly comfortably, you will find that this exercise can quickly become very easy.
Therefore I thought I would write this article today to discuss 8 different ways that you can make this exercise a lot harder once you reach this point:
Raise The Height Of Your Legs
One way you can instantly make this exercise harder is to raise the height of your legs so that your feet are resting on a chair, bed or exercise ball, for example. The reason why is because this will require your chest to do a lot more work when you are completing each rep.
Use Your Fingers / Wrists
You can also make this exercise harder by making fists with your hands and pushing down on your knuckles. This has the additional benefit of strengthening your wrists, fingers and forearms, and strengthening your grip.
Use One Arm Instead Of Two
The standard two-arm push up can become quite easy once you are able to lift your own weight, so by using one arm instead of two (performing the same number of reps with each arm), you will find this to be a lot more challenging, particularly as one arm will often be slightly weaker than the other.
Add Some Weight
Another thing you can do is to increase the weight, not by getting fat but by wearing a rucksack on your back and putting some weights in there. If you don't own any weights, you can simply add something heavy like some books, for example.
Lift One Leg Off The Floor
A popular exercise that many men like to do to show off their overall strength is to perform this exercise with one leg off the ground, or with one leg above the other. That's because this is a lot harder to do than a standard push up, even though it might not appear to be that difficult on first impressions.
Bring Your Hands Closer Together
You will sometimes find that push ups are easier when you start widening your grip slightly, so by doing the opposite of this and bringing your hands much closer together, it will generally be slightly more difficult, although not massively so.
Go Hands-Free
If you are starting to find standard push ups too easy, you might want to consider doing explosive push ups because these require a lot more power as you need to push yourself high off the ground so that you are able to clap your hands at the end of each rep.
Do Handstand Push Ups
Finally, if you really want to push yourself to the limit and see how strong you really are, you might want to try doing some handstand push ups because these require a combination of strength and technique, and are very hard to do.
The point is that you still have a number of options once you are able to do lots of standard push-ups without any problems. You just need to make one or two changes to the way that this exercise is traditionally performed.