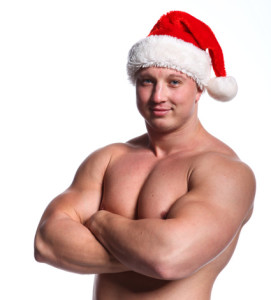 You could argue that December is a great month to try to bulk up because even if you achieve limited success in the weeks before Christmas, you are sure to gain weight as a result of the Christmas and New Year celebrations.
However as I always point out, bulking up is not just about gaining as much weight as possible. You should always be focused on gaining muscle rather than fat because too much excess body fat can be really difficult to get rid of.
So in this article I want to provide you with some strategies that will help you bulk up over Christmas and New Year without getting fat:
Use Bulking Up Supplements / Mass Gainers
It is always a good idea to take some kind of mass gainer when bulking up, whether it's in December or any other month of the year.
That's because these will often be loaded with protein, calories and amino acids that aid muscle growth. Subsequently they will help you to bulk up with muscle if you are also training hard in the gym as well.
Build Muscle In The Gym
Expanding on the last point, you really need to push yourself hard in the gym when you are on a bulking cycle, and this is particularly true in December when it is all too easy to consume too much food and drink and gain some unwanted fat.
Plus if you are taking a mass gainer supplement, you will achieve much better results if you consistently lift heavy weights in the gym and focus on strength training rather than cardio work.
Load Up On Protein
I don't know what Christmas is like in many other countries, but in England it is common to buy a large turkey for Christmas dinner, and continue to eat the leftovers for many days afterwards.
This is perfectly acceptable when you are on a bulking cycle because meat is an excellent source of protein, which obviously aids muscle growth. So don't be afraid to eat lots of turkey and chicken over the holiday season because this will help you to bulk up.
Ditch The Chocolates And Christmas Pudding
Christmas is a time when many of us stuff our faces with chocolates and Christmas pudding, but if you are already consuming an excess of calories, you will just end up getting fat, which is not what you want to achieve.
It might be difficult to do, particularly when everyone else is filling their faces, but you should try to avoid these treats if you want to gain weight primarily through muscle growth.
Limit Your Alcohol Consumption
Unfortunately you should also try to limit your alcohol consumption because as well as being bad for your health, these drinks are full of empty calories that will only help to expand your waistline.
There is nothing wrong with having the occasional drink over the holiday season, particularly on Christmas Day and New Year's Eve, for example, but you should try to avoid drinking every day, and should definitely avoid going on big drinking sessions.
Resume Cardio Work In January
If you follow these tips and remain disciplined throughout Christmas and New Year, you should find that you have built up some serious mass in the previous weeks, and have maybe accumulated a little bit of body fat as well, which is perfectly normal.
So now it is time to ditch the bulking cycle and start a new cutting cycle to get rid of any excess body fat, highlight your newly developed muscles and achieve your final look. This means doing more cardio work and maybe taking a legal cutting steroid to retain muscle mass and promote fat burning.