Why People Use Injectable Testosterone For Bodybuilding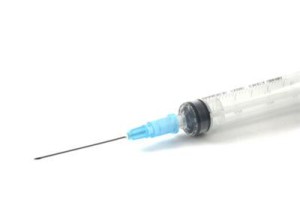 One of the good things about being young is that it is relatively easy to build muscle. However as the years go by, testosterone levels start to fall and as a result of this, it becomes harder and harder to build muscle and stay slim.
It can also lead to a number of health issues, including reduced sex drive, erectile dysfunction, reduced appetite, fatigue, depression and weight gain, for example.
That's why many men seek a quick fix solution, and one obvious solution is to use testosterone injections because these can help restore testosterone levels and make it easier to build muscle mass.
Do Testosterone Injections Work?
Testosterone injections won't necessarily produce miracles, and certainly won't give you Popeye-like muscles just like that. You still need to do some serious training in the gym if you want to see results.
However they will generally produce some good results when used as part of an overall bodybuilding program, and may well reverse many of the symptoms of low testosterone that I mentioned before because this is what they are primarily used for.
The problem is that these injections are illegal in the majority of countries and should only be taken under the supervision of a doctor or health professional because they can cause some pretty serious side effects.
Side Effects Of Injectable Testosterone
According to Drugs.com, testosterone injections can cause a number of side effects, including nausea and vomiting, liver problems, shortness of breath, painful urination, changes in skin color, chest pain, swelling of the ankles and a range of sexual performance issues such as erectile dysfunction, reduced amounts of semen and decreased testicle size.
So because it is recommended that you consult a doctor if you experience any of these problems, you could put yourself in a tricky position if you encounter some of these problems whilst using these injections illegally and purely for bodybuilding purposes.
There is also the fact that you don't really know what you are injecting into your body when obtaining testosterone illegally. You could be doing untold damage to your body.
What Are The Alternatives?
If you are just looking to build muscle like you could when you were younger, your best bet is to buy a muscle-building supplement or a natural testosterone supplement that has tribulus terrestris as one of its key ingredients.
That's because tribulus terrestris is one of nature's most effective testosterone boosters, and has been shown to increase muscle size and body strength in clinical studies (although not as much as some makers claim).
If you would like to buy one of these supplements yourself, you might want to check out this list of the top natural testosterone boosters because you will see that all three products include tribulus terrestris as one of their main ingredients, along with a number of other beneficial ingredients.
These are all free of any side effects, unlike testosterone injections, and are 100% legal to buy online because they are formulated using pure natural ingredients.