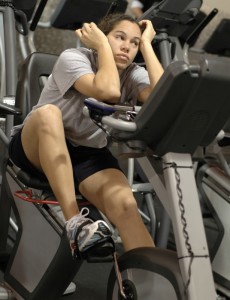 Many people decide to join a gym with the best of intentions, whether they are looking to build more muscle, lose weight or improve their overall fitness level.
However the reality is that many people will stop going to the gym within one month, and in some cases within a few weeks. So why do so many people give up?
Well it all comes down to motivation, or a lack of it. The fact is that a lot of people don't realize how hard it is to work out on a regular basis, particularly if they have signed up with a personal trainer, who will inevitably push them hard.
If you want to build more muscle, you have to do lots of strength training exercises, and similarly if you want to lose weight, you will have to do a lot of cardio workouts on an exercise bike, treadmill or elliptical machine, for instance.
This is of course a lot of hard work, and a lot of people will just decide that they can't be bothered going any more, particularly in January and February when it is so cold outside.
Another key reason why so many people stop attending their local gym is because they become disillusioned when they don't start seeing results straight away.
Those people who make a commitment to lose weight by doing lots of cardio will often be inspired to continue going once they start losing a few pounds, but for those people who are looking to gain muscle, the results can take a lot longer to come through.
Subsequently if they don't really see a difference within three or four weeks, they will often decide that it is not worth going any more, particularly if they are paying a lot of money for their membership fee every month.
One final reason why people give up is because working out in the gym can be very boring and monotonous. This is not always the case if you are focusing on strength training, but walking on a treadmill or cycling on an exercise bike for 30 minutes or more can be incredibly tedious, even if you are listening to music at the same time.
The consequence of all this is that new members to the gym will often sign a lengthy 6 or 12-month contract, and end up wasting a lot of money on a membership they no longer use.
Therefore if you are thinking about joining a gym yourself, you should never commit yourself to a long-term membership. It is always a good idea to pay on a monthly basis just in case you end up quitting within a month or two, like so many other people do.